Exorcisor MK I & II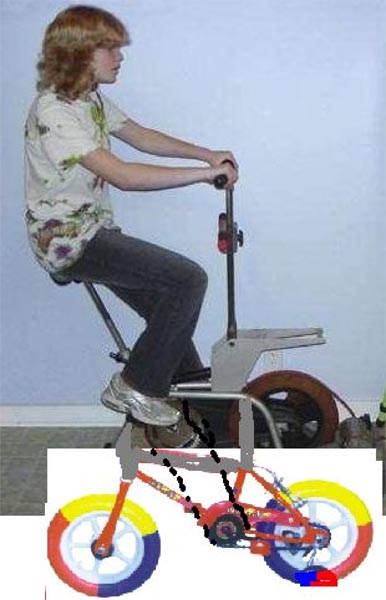 | | |
| --- | --- |
| BUILDERS: | Master Builder/Engineer: FKA Ben |
| DESIGN: | Backwards reversible excercise bike |
| BUILD: | When at first you don't succeed... |
| NOTES: | Looking forward to MK II... |
| MOST MEMORABLE RIDE: | Hard Rat Café Spa-warming Ride |
I had a plan for my first freak bike, I wanted to be riding down the street on an exercise bike. Sounded easy…. I wanted to keep the front wheel rigid so planned to put the exercise bike onto a kids bike…backwards. So basically this is what I wanted to look like, red mane and all.
Exorcisor, MK I
Not yet confident with my own welding, despite many hours of tuition and being raised by a master-welder, I enlisted the help of Limp Jimmy one cold and blustery Canberra night. With some beer, some hot sparks and a few ideas we arrived at The Exorcisor MKI.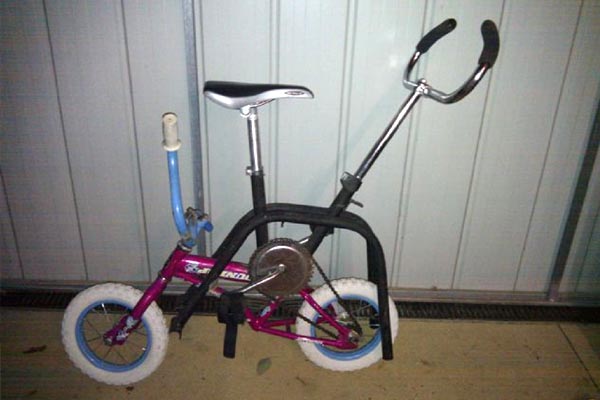 During a random moment of crazyness trying to ride this impossible machine, it was discovered that you could, uncomfortably, ride it in reverse on your stomach. Other than riding this way, it was nearly impossible.
Exorcisor, MK II
Despite much practicing in the driveway, the rear steer could not be mastered. So it was time for MKII.
Reversing the bike saw much improvement in the handling and a bit of paint, and a blingy steerer spring, made it easier on the eyes.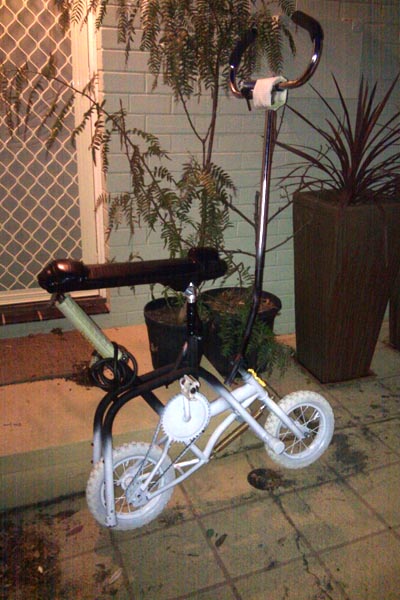 This was where the re-purposed trampoline spring really comes into its own, helping to make steering smoother and less erratic. However, it was still very hard to ride. After much practice, I set off to ride to the Hard Rat Café spa-warming. I think I nearly blew up the rear hub as I'm pretty sure it wasn't designed for over a hundred kilos of man and exercise bike to ride on top of it.
To make matters worse, because it is so top heavy and the steering is side to side rather than turning, the bike would randomly career offline wherever it felt like. This meant that I needed nearly the whole road in order to go straight ahead and got a little bit scary in traffic.
Not safe even by rat standards so went back to the drawing board again.
Exorcisor, MKIII
Bigger wheels next. Stay tuned.