Moderately Tall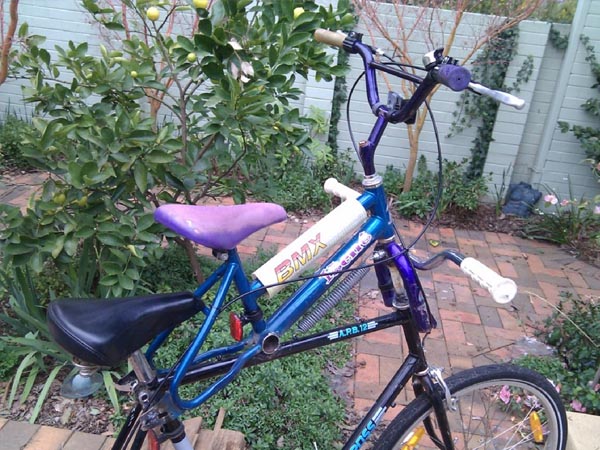 | | |
| --- | --- |
| BUILDERS: | Master Builder/Engineer: FKA Ben |
| DESIGN: | Let's call it a half-tall |
| BUILD: | After determining that the Exorcisor mkII was probably too unsafe to ride (since it required more than one lane of traffic-free bitumen in order to allow for the random actuation steering feature) I decided that a tall, but not too tall bike would be ace. Having a nice bike with fantastic running gear which I had previously rescued from the tip, and a kids bike which originally had foam wheels, I was ready to go. |
| NOTES: | Rides well, good balance and not too bad on the eye. |
| MOST MEMORABLE RIDE: | Geocache Ride |
Build Day 1:
So a quick two and a bit hours and equally as many (or more) beers, I had the basics together.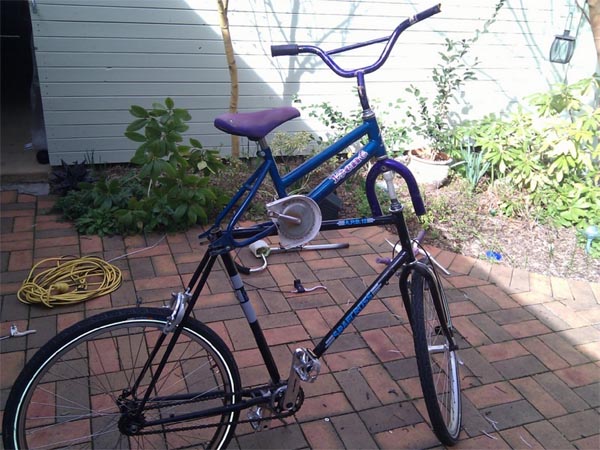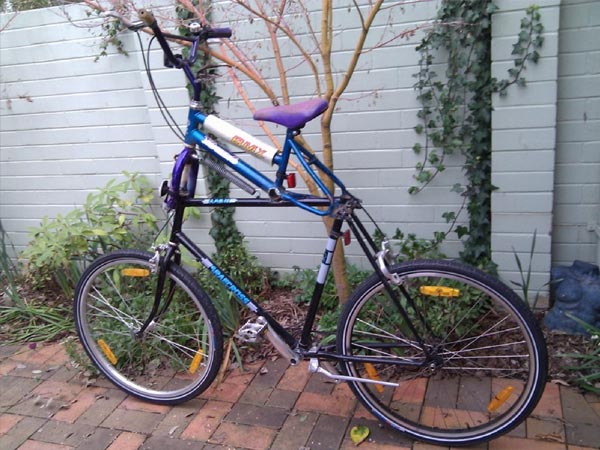 Now, probably because it was moderately tall, the pedals were a bit far away from the seat.
You could reach but only on tip-toes and with a very suss wiggle and grind movement of the hips. Not cool. So, needing to reach the pub to discuss important rat plans of mobile spa heating devices I made some quick additions and gave her a run. A second set of bars and seat meant I could choose where to ride. Added a spring return which keeps the bars straight (helps the kickstand work, steering is smooth and just cause I could)...
Now being a kind of special, moderately tall tandem, I rode to the pub and thought about how to improve her. After some secretive planning, I went home and dreamt of cut'n'weld.
Build Day 2:
So, all I need is a higher crank. Simple. Weld one on. Put in a taller seatpost and a seat designed for an adult ass, and off I go.
Rides well, good balance and not too bad on the eye.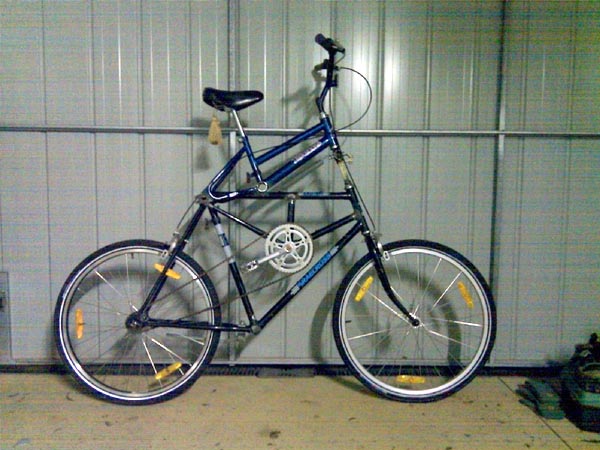 Bring on Geocache Ride.